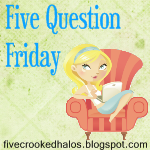 1. T

hunder storms- love them or hate them?
Love them! Need a few around here, actually...
2.
Do your kids get back to school clothes?
I kind of have to. They wear uniforms and by the end of the school year they are pretty trashed and small to boot.
3.
Do you golf? Do you watch it?
Showers as a general rule. Baths are a kind of vacation luxury. I like staying places where there are Jacuzzi tubs!
5. W
hat's the strangest meal you ever ate?
The all-wing fest at Buffalo Wild Wings is kind of strange when you think about it. 20 wings and about two quarts of sweet tea? Pretty tasty, though.
Thanks to Five Crooked Halos for hosting the fun!